Description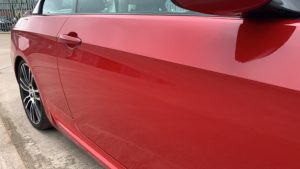 Before Using White Diamond Blue Pearl Polish Only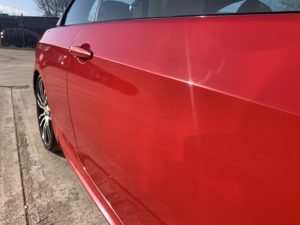 After White Diamond Blue Pearl and Then Applying Diamond Ceramic Coat Showing the depth of Gloss Achieved
Diamond Coat Ceramic Spray Coating enhances paint depth to achieve a lustrous deep gloss shine that's sure to turn heads. Diamond Coat shields vehicle exteriors from harsh elements, repelling UV rays and contaiminates from penetrating the paint surface. Once treated, the surface becomes extremely hydrophobic. Resulting in a brilliant shine and a protective layer that does'nt go unnoticed. Rejuvenates and protects faded exterior trim, suitable for glass inside and outside to prevent misting. Perfect to apply to all metal surfaces to protect against the elements, and all exterior plastics.
Ceramic Protectants deliver a much higher durability than traditional waxes or polymers. They resist heat, UV rays, environmental contaminants & harsh detergents much better than wax. This is due in part to the fact that our ceramic coating goes the extra mile by bonding to the vehicle surface rather than simply sitting on top of the treated surface. The result is an extremely hydrophobic surface that
shines brighter for longer.
Extra Benefits
The formula works great on automotive glass. We find that the product works best when you spray and let it 'haze up' for a few moments, then wipe clean with a clean, dry microfiber. The few moments that you allow it to 'haze up' prevents streaking while wiping.
In addition to exterior windows, customers can use Diamond Coat on the inside of their automotive glass to prevent fogging and buildup of contaminants.
For use on Metal after polishing: Diamond Coat is perfect for use on metal after polishing. The sealant in Diamond Coat won't break down waxes in the polish, rather it complements the polish. The sealant in Diamond Coat is much more durable, and produces an extremely hydrophobic surface that enhances water sheeting, and depth of shine.
We tell our customers that the Ceramic Coating formula in Diamond Coat is quite a bit different than your average Spray Wax or Detail Spray. Si02 (the active ingredient in ceramic coating) adheres to pores in the vehicles material (Painted surfaces, metal, rubber and plastic trim & moldings, tires, etc) creating a seal. Unlike waxes, ceramic can withstand extremely high temperatures. Ceramic is much more hydrophobic than waxes as well, making it more effective at preventing contaminants from settling on your vehicle, which in turn makes your vehicle easier to detail later on.
Although 'Ceramic' Sprays are traditionally marketed for painted surfaces, our Diamond Coat is unique because it works beautifully on all exterior surfaces. Our customers use it on plastic trim, and rubber trim. It also works great as a tire shine. Once the Diamond Coat is applied dirt/mud, bird droppings, bugs, and other contaminants will have a hard time sticking so it keeps rubber looking sharp.
All White Diamond products utilize a different type of sealant, meant for the application in which they're being used, to best preserve the vehicle. In polish we use a hard wax, because of durability, and the pore size of most metals. In the Blue Pearl we use polymer based sealers which creates a new surface layer on top of paint pores. In our Quick Detail & Soap we mostly utilize cleaning agents that have certain shine enhancing properties, which creates a barrier from the environment as well. When all those products are used in conjunction the result is the highest level of protection and shine available!
DIRECTIONS OF USE:
Simply mist and wipe repeatedly, spreading the formula across the exterior of your vehicle with a clean, soft cloth. Once a fine layer has been applied, buff to a finish with an additional clean, dry microfibre cloth.
Do not use on Leather or Vinyl.